Donald Trump impeached by House of Representatives
Trump became the third president to be impeached in US history.
After a full day of debate, the House voted 230-197 to approve a first article of impeachment charging Trump with abuse of power, with one "present" vote. A second article, charging Trump with obstruction of Congress, was approved 229-198.
Trump now faces a trial in the Senate, where he is expected to be acquitted. Proceedings in the Republican-controlled body are likely to begin next month, but the exact timing remains unclear as Democrats and Republicans negotiate over the terms of the trial.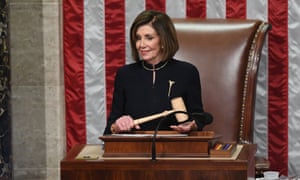 Trump has been impeached – so what happens next?
Read more
As Wednesday's vote unfolded, Trump spoke at a campaign rally in Battle Creek, Michigan. "It doesn't really feel like we're being impeached," he said, to cheers. "This lawless partisan impeachment is a political suicide march for the Democrat party."
But Trump's fierce efforts to seal himself in a bubble of adulation, and his insistence that Republicans pretend away the existence of facts threatening to pierce that bubble, could not divert the historic reality coalescing on Capitol Hill.
The House speaker, Nancy Pelosi, described the proceedings as a "sad day" for the country. "The president's reckless activities necessitated us having to introduce articles of impeachment," she said at a press conference following the vote.