Chelsea vs Leicester vs Manchester United: Who's in pole position to make the Champions League?
At one point it looked like Chelsea, Manchester United and Leicester City would all be competing in the Champions League next season but the Court of Arbitration for Sport's decision to overturn Manchester City's European ban means there are just two Champions League spots now up for grabs.
So, with three teams jostling for those spots, who will come out on top?
Premier League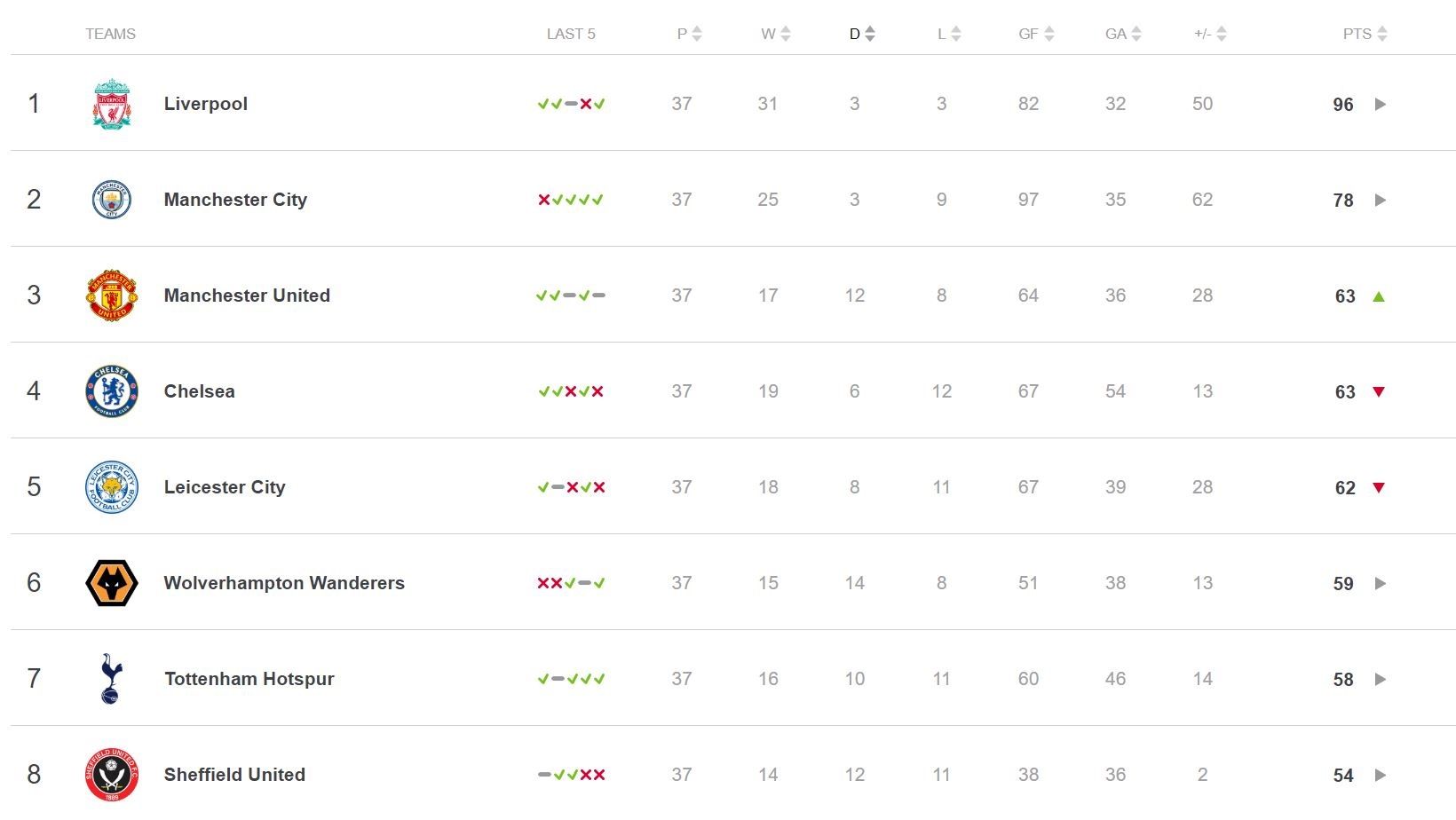 United's 1-1 draw with West Ham saw Ole Gunnar Solskjær's men up into third, a point ahead of Chelsea, who were beaten 5-3 by Liverpool and may now need to beat Wolves on the final day to secure a top-four finish.
Manchester United are also just a point ahead of Leicester and are set for a fascinating showdown at the King Power on the last day of the season, with United needing a point to secure fourth spot and Leicester needing to win.
You don't have to like Manchester United and Chelsea to appreciate their love of the drama. A couple of wins, and the race for fourth would have been over, nice and neat and tidy. But instead, United drew with West Ham and Chelsea came out the wrong side of an 8-goal party at Anfield, so Leicester are still in the picture and things are delicately poised.
But the games, though inconclusive, did confirm a couple of things about the Champions League aspirants. United are knackered, and also cannot afford to be knackered, since all attempts by Ole Gunnar Solskjaer to rotate his squad appear to be doomed. In theory they have the advantage going into the last day, since they're currently third and need only not lose to Leicester. But they're going to have do to that at quarter-speed.
As for Chelsea, they need a point if United lose or draw, and Christian Pulisic is great. However, they cannot defend. Not even a bit. They have now conceded more goals (54) than any other team in the top half. More than Brighton, down in 16th.
Remaining fixtures ft. Chelsea, Leicester, Manchester United
Leicester vs

Manchester United – July 26

Chelsea vs Wolves – July 26
Ole Gunnar Solskjaer - We will go there to win
We've given ourselves a great opportunity. We wanted to give ourselves the chance to head there and get into the Champions League by beating them. Now, we'd be OK with a draw, but we'll be going there to win. You'll prepare as you always do to go and win the game.
We've got three days now... the extra day before Sunday will make us 100-per-cent fresh.
Brendan Rodgers - It will be perfect
It will be absolutely perfect. It will be all in. The players have been fantastic. We've got one last opportunity. Whatever the result was today, we needed a result next week.
I always felt that no matter how well you do, there will always be disappointment. Others will be gratified with the work done over the past 17 months to be in this position. I know there will be both feelings.
The players, what they've done in the past 17 months, to put themselves in this position, it's brilliant.